Expert Generator Installation & Repair Services
You Rely On Power, What About When It It Goes Out?
When you go to flip a light switch or turn on your tv or start your microwave, you just expect it to work. We have been privileged to live in a world where we have such high-standards for our home's electric power. So when you flip your room light on and you're still standing in a dark room, you notice pretty immediately. You realize that you now have to worry about how you are going to get the power back, whether that is a simple reset of the breaker or a phone call and a long wait for the power company. All while your home has no power.Contact Us Today!
But what if you didn't have to worry so much about getting your power back? That's where emergency generators come in. An automatic home generator can provide a home with total power just 30 seconds after a power outage. You might still need to deal with what caused the power outage, but you can deal with that issue while still in your powered home.
Our world relies on power for so many reasons and functions, so losing power without a reliable method for getting your power back can be a little panic-inducing. Burch Oil wants to worry about how your home will have power during a power outage so you don't have to. We have been providing these types of services for almost 100 years now to the St. Mary, Charles, and Calvert counties, so give us a call and get your free estimate to see how an emergency generator can work in your home.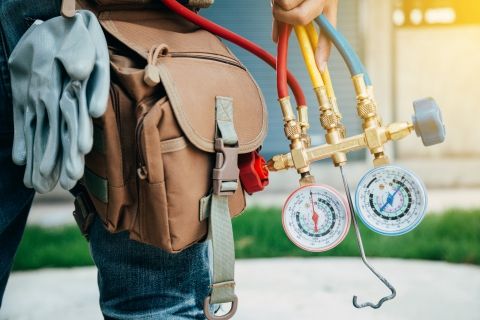 Installation with Burch Oil
About 3.5 million people experience a power loss every week, which is just one of the many reasons that Burch Oil is dedicated to providing emergency generator installation and service to southern Maryland and the surrounding areas. If you have already made the smart decision to install an emergency generator in your home, great! Home generators vary in size and power ability, so finding the right one for you and your home's power needs is an important first step.
Luckily, Burch Oil offers a wide selection and installation ability of emergency generators from Generac that will fit your space and power needs. 
The Automatic Home Generator offered by Generac is usually a great choice for any home, as it can provide electricity to the whole house in a small, convenient unit. It can also attach directly to your natural gas line, so you don't need to worry about gasoline or tangled extension cords. After installation, the model automatically senses a power outage and transfers generator power to your homes circuits; and when the power comes back on, the generator automatically shuts itself off. The model also runs an Ultra Quiet Mode for a couple minutes once a week, to keep the engine lubricated and ensure functionality for when you need it most.
Burch Oil offers effective installation services for a variety of different emergency home generators in the southern Maryland area. Give us a call and see how we can give you the peace of mind you need for your home's power.
When your power goes off for extended periods, a backup emergency generator can be very beneficial.
Generators come in different sizes and the correct generator size is determined by your power needs in emergencies. Regardless of the size you need, we offer a wide selection of emergency generators from Generac.
If you need more information about the emergency generators we offer, the perfect size for your application and the best price in southern Maryland, just let us know. We can give you a FREE estimate.
Generac created the home backup generator category. Today, Generac generators are preferred by 7 out of every 10 homeowners who invest in home backup power.
A permanently installed Generac home backup generator protects your home automatically. It runs on natural gas or liquid propane (LP) fuel, and sits outside just like a central air conditioning unit. A home backup generator delivers power directly to your home's electrical system, backing up your entire home or just the most essential items.
For more information about emergency generators or for assistance in helping you figure out the best option, contact us now.